Launch of Ageing & Dementia @Bangor
Date: 15 January 2019
Time: 10:00 - 13:00
Venue: Neuadd Reichel, Bangor University
CADR warmly invite you to a formal launch of Ageing & Dementia @Bangor. The aim of Ageing & Dementia @Bangor is to promote high-quality research, teaching and training that addresses the challenges and opportunities posed by demographic change and an ageing society. Read more and register.


Policy Forum for Wales Keynote Seminar:
Putting Healthier Wales into practice - next steps for health and social care integration in Wales
Date: Morning, Tuesday, 15th January 2019
Venue: Central Cardiff
with Sue Evans, Chief Executive, Social Care Wales Dr Mair Hopkin, Joint Chair, RCGP Wales Professor Sir Mansel Aylward, Chair, Bevan Commission and Kate Cubbage, Carers Trust Wales; Nigel Downes, Royal College of Nursing; Councillor Susan Elsmore, Cardiff & Vale Regional Partnership Board; Sarah Jennings, Hywel Dda University Health Board; Dominique Jones, Powys County Council; Professor Stephen Riley, Cardiff University; Carly Skitt, Powys Teaching Health Board; Stanislava Sofrenic, British Red Cross; Dr Carolyn Wallace, University of South Wales & PRIME Centre Wales and a senior speaker confirmed from BMA Cymru.
Chaired by: Dawn Bowden AM, Member, Health, Social Care and Sport Committee
Follow us @PFWEvents | This event is CPD certified
Cardiff MI Intermediate Workshop
Date: Mon 28th & Tues 29th January 2019
Venue: Swalec, Cardiff
Spaces available. Rory Allott, an experienced MI trainer who works in the mental health field will assist me. We will assume a basic knowledge of MI, but help everyone get up to speed before the workshop if necessary.
The focus will be on practising the style and a deeper dive into the conversation about change, to enhance awareness of both one's internal state and the language used by the client or patient.
For more information and to register please follow this link: http://www.micardiff.co.uk/intermediate-2-day-2019.php

Getting Wales Moving 2019
Date: 27 February 2019
Venue: Hilton Cardiff Hotel
Following on from the hugely successful inaugural Getting Wales Moving Conference - Delivering on the Well-being for Future Generations Act, we are delighted to announce the second conference in the series on the 27th of February 2019 at the Hilton Hotel, Cardiff.
Once again, we have set the bar high, both in terms of quality and expectation of stimulating real change. The 2019 conference will again feature influential and well-respected speakers with detailed insight from the Welsh Government, Sport Wales, and leading figures involved in improving population health and tackling inactivity and skills shortages across the sector workforce and Welsh communities.
Save the date: Public Health Wales Research Showcase
Public Health Research, Policy and Practice: Bringing together health and social care
Date: 13 March 2018
Venue: Hadyn Ellis Building, Cardiff University
Further details to follow.
South West SAPC 2019
Date: 13-14 March 2019
Venue: Cardiff
We are looking forward to welcoming you all in Southampton for the South West SAPC 2019 conference. The registration and abstract submission links are now open.
The South West Regional Meeting of the Society for Academic Primary Care will take place at the Grand Harbour Hotel, Southampton. The conference will open at 12.00 noon on Wednesday 13 March 2019 and will close at 13.00pm on Thursday 14 March 2019.
Please can you disseminate to your colleagues and remind them to visit our website.
Registration is now open, closing date 25 February 2019.
Please book on our online store.
Conference costs and options below:
Full conference (2 days): £170.00
Day Delegate: £90.00
Wednesday evening conference dinner: £55.00
Accommodation is not included.
Support & Delivery Day - save the date
Date: 14 March 2019
Venue: Jury's Inn, Cardiff
Theme: One Wales: Working together in research

Find out more and register your interest.
BJGP Research Conference
Date: 29 March 2019
Venue: RCGP, London 
Following the success of our inaugural conference, the BJGP Research Conference returns for a second year. It's an exceptional opportunity for researchers at all stages of their careers to acquire new research skills and present their work in a constructive, peer-reviewed environment.
A unique opportunity to acquire new research skills
Receive constructive feedback on research presentations
Hear from leading figures in primary care research
Learn new skills in writing, critical appraisal, peer review and presentation
Workshops on many aspects of writing and publishing research
Poster presentations
Meet the editors and staff of the BJGP and BJGP Open.
Who should attend?
GP trainees and newly qualified GPs
Practising GPs with an interest in developing research skills
Early-stage clinical and non-clinical academics in primary care
More senior researchers wishing to hone or develop their presentation, writing and critical appraisal skills.
Register before 16 December 2018 to save 15%
HealTAC 2019 – save the date!
Date: 24 -25 April 2019
Venue: Cardiff
Following the exciting HealTAC 2018, the UK healthcare text analytics network (Healtex) is organising the second conference in the series next April in Cardiff, Wales.
Healthcare narratives recorded in documents such as encounter notes, discharge letters, nurse handover notes, imaging/pathology reports, patient-generated data posts in surveys and social media, etc. represent a key communication stream that contains the majority of actionable and contextualised information. Despite them being increasingly available in a digital form, they are yet to be routinely analysed on a large scale. The conference aims to bring the academic, healthcare, industrial and patient communities together to explore the current state of the art and share best practice, key results and common challenges.
The first (formal) call for contributions will follow shortly, inviting full and short papers, posters, demos and special sessions. The event will also provide a forum for PhD students and industrial partners to present their work.
The conference will be subsidised by Healtex – so please start preparing you contributions!
Here are the key dates:
– Call for contributions: November 2nd, 2018
– Deadline for papers, posters, demos, special sessions: January 21th, 2019
– Notification of acceptance: February 18th, 2019
– Conference: April 24th and 25th, 2019
Please feel free to forward to your colleagues and collaborators.
Further information: http://healtex.org/event/healtac-2019-save-date/
Health Economics for Public Health Practice & Research
Date: 8-10 April 2019
Time: 09:00 - 17:00
Venue: The Management Centre, Bangor

At the end of this short course delegates will have gained an appreciation of the concepts, methods and application of health economics to public health, be able to critically appraise a published economic evaluation of a public health intervention and feel confident in speaking about potential return on investment from public health programmes in the NHS and other settings. Read more and register.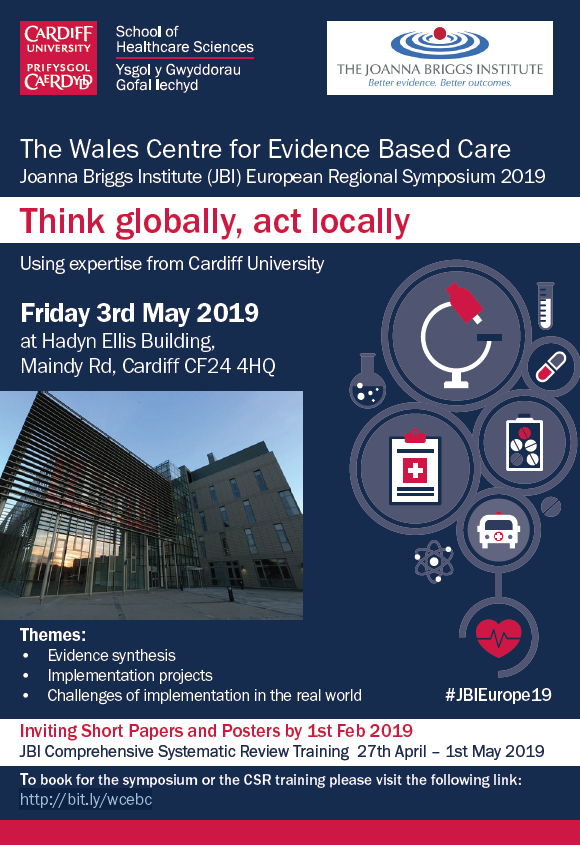 The Community Nursing Research Strategy is supported by PRIME Centre Wales,
which is funded by Health and Care Research Wales